Thousands Answer Voices For Children's Call To 'BE A HERO' At ST. Lucie Mets Game
Kip Lyman, YourNews contributorPublished 6:02 p.m. ET May 16, 2018
PORT ST LUCIE — Child victims of abuse and neglect were the big winners when a local nonprofit, Voices for Children, sponsored its first "Be a Hero" night at First Data Field on April 28.
While the St. Lucie Mets players donned super hero jerseys and "Spidey" himself roamed the stands entertaining kids of all ages, the robust crowd was treated to a $1 raffle and a post-game fireworks display. More than $11,000 was raised to support the children represented by the area's Guardian ad Litem program.
  (Photo: CONTRIBUTED BY SCOTT WIGAL/SANTABYSCOTT)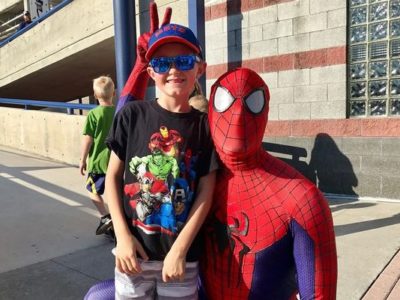 The GAL advocates on behalf of children currently under court supervision, many of whom are in
foster care. Hundreds of children, many decked out in super hero costumes and t-shirts, posed for pictures with "Spidey" making the evening memorable for the families at the game, which enjoyed a record paid attendance of 5,527.
"We had three objectives," said Voices for Children president Bob Perry. "Give as many kids as possible a terrific, fun night; increase community awareness of the exceptional work being done by the GAL staff and volunteer child advocates; and raise funds to provide for the everyday needs of these children to whom life has not always been kind."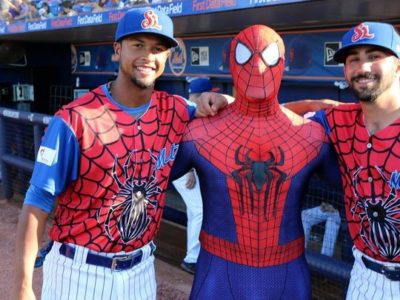 Festivities also featured the singing of our national anthem by Guardian ad Litem senior attorney Gary Bokas, and the throwing of the ceremonial first pitch by one of the children represented by the GALprogram. "The Mets organization was wonderful to work with and did all they could to help make this a night that will benefit children in need for a long time to come," Perry said.
(Photo: CONTRIBUTED BY SCOTT WIGAL/SANTABYSCOTT)
From left are Paul Nigro, GAL Program Circuit Director; Bob Perry, President, Voices for Children; and Traer Van Allen, General Manager, St. Lucie Mets, at the game on 'Be a Hero' night. The event raised more than $11,000 for the Guardian ad Litem program. (Photo: CONTRIBUTED BY ST. LUCIE METS)
Currently, 105 of the 803 children assigned to the circuit's GAL program are still in need of a volunteer advocate.
For more information visit the 19th Judicial Circuit's Facebook page or its nonprofit's website, www.voicesforchildrenotc.org.