Hanging of the Hands Presented by Florida Guardian ad Litem Program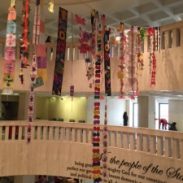 Written by Elizabeth Damski
Children's Week is excited to announce the Florida Guardian ad Litem Program is a proud partner of the 2017 Hanging of the Hands activity during Children's Week! The annual Hanging of the Hands is a magical activity taking place Sunday, March 26 from Noon to 4 p.m. in the State Capitol Rotunda. Tens of thousands of brightly colored children's hand artwork is collected from child care centers and schools across the state and put on display in the State Capitol Rotunda for the entire week (March 26 to 31) as a reminder to legislators, policy makers and advocates that we must take care of Florida's children.
Through our amazing collaboration with Early Learning Coalitions and GAL volunteers, this year's Hanging of the Hands promises to be one of our biggest displays of hand art ever created!  Child care centers, teachers, schools and volunteers are encouraged to work with children to design hand art with messages to policy makers and ensure their voices are heard during legislative session.  Please view the Hanging of the Hands Flier for more details on how to get involved in this amazing and impactful activity. We encourage you to join us in person at the State Capitol Rotunda, or mail your children's hand artwork to the Early Learning Coalition of the Big Bend Region by Friday, March 10th, 2017.
You can learn more about how you can get involved in this year's Children's Week local and statewide activities by joining our toll-free monthly statewide conference call. Our next call is scheduled for Wednesday, October 5th at 10 a.m. and you may use the following information to connect: Phone Number: 1-763-957-6400 I.D.: 2107624#. Please click here to see the latest statewide conference call agenda.
#GiveUsAHand
Don't forget! The #GiveUsAHand social media campaign runs from January 23 to March 24. Now everyone can get involved and share your children's hand art via Facebook, Twitter and Instagram.  Use #GiveUsAHand, and remind our policy makers how important Florida's children are. To learn more view the Give us a Hand flier or visit our website.  Thank you so much for everything you do on behalf of our children.