19th Circuit Guardian ad Litem Program is the Big Winner at The Ultimate Tailgate Party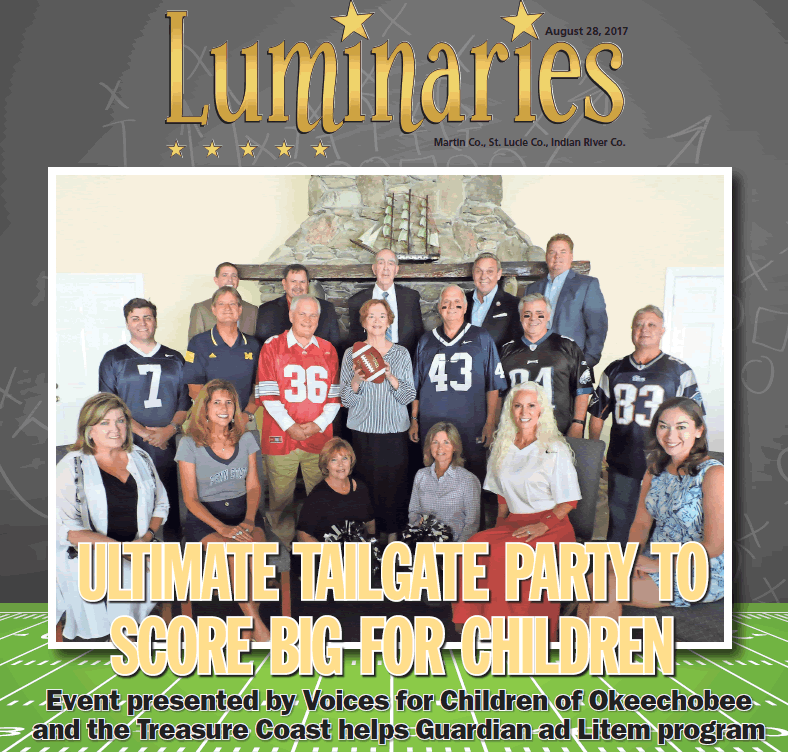 February 4, 2018 is going to be a big day in every way: a "big game", a big premiere fundraiser presented by Voices for Children of Okeechobee & the Treasure Coast (VOTC) and a big win for the children and volunteers of the 19th Circuit Guardian ad Litem (GAL) program.
VOTC is a 501 (c) (3) non-profit that raises funds to support the GAL program, and The Ultimate Tailgate Party is set to score big for those who advocate for the best interests of children who are alleged to be abused, neglected, or abandoned and who are under court proceedings.
One hundred-percent of the event's profits will be used to train and retain Guardian ad Litem volunteers and provide for the unmet needs of the children in care.
The Ultimate Tailgate Party kicks off at 1 p.m. on Game Day, February 4, and ends at 5 p.m. – so you'll be home in plenty of time for kick off.
The Pelican Yacht Club in Fort Pierce will be the site for the big pre-game show. Enjoy scrumptious food, amazing desserts, drinks, an exciting auction that includes a lovable puppy, incredible door prizes, a photo booth and surprise guests. Tickets are just $125 per person
You'll have a chance to win a brand new 2017 Ford Focus from Sunrise Ford that will be raffled off that day. Tickets are $25 or five for $100 and you need not be present to win.
A dedicated committee comprised of Kip Lyman, event chair; Bob Perry, president of Voices for the Children of Okeechobee & the Treasure Coast; Jim Pawlak, immediate past-president of Voices for the Children of Okeechobee & the Treasure Coast; Terence Channon and Howard Rothman, board members; Omar Walker and Tommie McDermid have masterminded an amazing party.
Major sponsors are Dr. Ron Lyman and the Animal Emergency & Referral Center, Sunrise Ford and Print Headquarters.
You can purchase event and car raffle tickets online or contact event chair Kip Lyman at (561) 452-6638 or KipLyman@aol.com.
Read the full story on TCPalm or download the PDF version of the story that appeared in Luminaries.
Photo identifications:
Page 2. Photo provided. Major sponsors Mary Jo Tierney, owner, and Mike Wetzel, vice president of Sunrise Fore
Cover Photo by Jackie Holfelder
(Seated) Jane Perry, Carol Matulonis, Tommie McDermid, Chris Binsbachar, Kip Lyman, Sara Davis, (standing, front row) Terence Channon, Gordon Matulonis, Dr. Ron Lyman, Fort Pierce Mayor Linda Hudson, Vern Melvin, Bob Perry, Richard Whittemore, (standing, back row) Ian Lloyd, Howard Rothman, Mike Brown, Sr., James Pawlak and Dana Binsbachar.